We Treat Our Troops With Respect. We Treat Our 
Troops With Honor.  Now, we're also treating our troops with some of the everyday items that 
we take for granted... with a desire to let our Troops know we don't take THEM for granted.  
Delehanty Ford has "Joined Forces" with Desert Angels to collect "treats" and comfort items for 
the purpose of mailing "Care Packages" to deployed Troops serving in harm's way. We're inviting 
everyone to join us in collecting items to include in the "Care Pack
ages" that we'll be mailing to 
our men & women serving in our deployed Armed Forces overseas. Now thru Oct 
15th, those wishing to participate can bring any number of the suggested items listed below 
to Delehanty Ford in Flushing. On Saturday, Oct 15th from Noon til 
3pm, everyone is also invited to join the many volunteers in Delehanty Ford's Flushing 
Showroom to help prepare & box the "Care Packages" to be mailed the following week! 
It's a Fun and Patriotic Way to Show YOUR Support & Help Delehanty 
Ford and Desert Angels Meet Our Goal of Mailing 200 Boxes to Treat Our Troops!"
SUGGESTED ITEMS WE ARE COLLECTING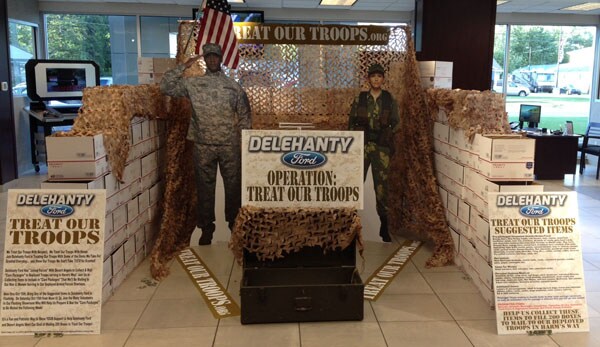 Pre‐packaged Unopened Snacks/Drinks/Food: Energy Bars, Rice Krispy treats, Life Savers, nuts, raisins, dried fruit, sunflower seeds, trail mix, crackers, all kinds of candy, gum, hard candy, and chocolate candies (chocolate from October to March only). Pop Tarts, Granola Bars, energy bars, cereal bars, breakfast bars, oatmeal, Slim Jims, beef jerky, tuna in foil pouch, pasta, canned chicken, mac 'n' cheese, canned meat, peanut butter Ramen noodles, Hot chocolate, powdered drink mixes (Gatorade, Crystal Light, Kool‐Aid, Tang, etc.) coffee, instant coffee, flavored dry coffee creamer, tea bags, soup, etc.

Recreation: New nerf‐style Footballs, soccer balls, cards, crossword puzzles, soduko, pens, paper, envelopes, etc.

Items for Winter: Hand warmers, foot warmers, new crew‐style socks (year round).
Personal Hygiene/Medical: Sunblock, Q‐tips, chap stick, eye drops, stick deodorant, individual Kleenex packs, razors, toothpaste, tooth brushes, mouthwash, wash cloths and bar soap, manicure sets, Wet Wipes, anti‐itch creams, BioFreeze, foot powder, travel size toiletries, feminine products, ponytail bands. (NO Aerosol, nail polish, or perfume.)
Additional Items:
Letters of Encouragement, small and large zip‐lock bags, travel size inflatable 
pillows, pillow cases, socks, large bandannas, neck coolers, t‐shirts, batteries (AA & AAA),
Postage:
Those wishing to donate funds to help cover postage can donate as well. An estimated 
cost for postage is between $15 and $20 per box mailed.
Desert Angel, LLC  is a 501C3 Non Profit Organization That Fulfills Care Packages to the Deployed Soldiers in Harm's Way.